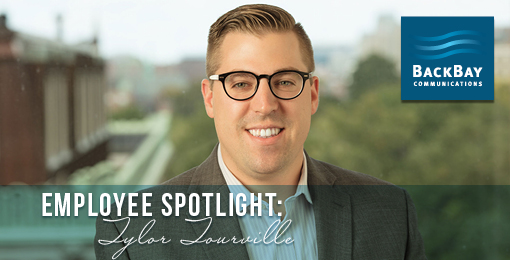 The fast pace and variety of activity is what attracts a lot of people to the PR profession. But I actually appreciate the simplicity of the job above all. In the end it's about finding the stories that our clients can and should be telling, and helping them find the best way to do it.
Describe your role at BackBay. What is the day to day like?
I'm a vice president and currently lead our Fintech practice. I have the privilege of leading and working alongside a stellar team with clients across the fintech spectrum.
Our day to day is similar to most agencies – which means it's always a little bit of everything. Client status calls, writing press releases and blogs, collaborating on pitch ideas, communicating with reporters, coordinating press interviews, putting together reporting documents. Oh, and of course picking up the phone when a client calls out of the blue.
The fast pace and variety of activity is what attracts a lot of people to the PR profession. But I actually appreciate the simplicity of the job above all. In the end it's about finding the stories that our clients can and should be telling, and helping them find the best way to do it.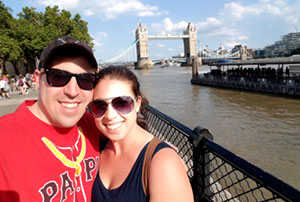 What did you study in college? How does it relate to what you do now?
My degree is in communication, which I earned at the University of Maine (Go Black Bears!).
Because it's such a broad field of study, and most of the foundational concepts are intuitive on some level, communication gets a bad reputation sometimes. It's a major the athletes take, or the people you know who are still trying to "figure out" what they want to do.
However, applying communication theory to become a more effective communicator requires close study, and practice. There are many good communicators out there. But the chasm between good and great is massive. And like with any profession, that's where dedication to the craft makes all of the difference.
Being able to understand how people are communicating with you and then being able to address their request, concern or question in a way that's not only satisfactory, but also can strengthen your relationship with that person, is a skill that I put to use every day at BackBay.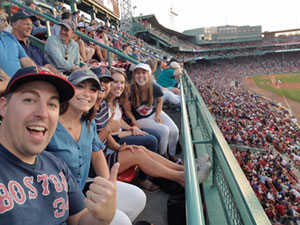 What is your favorite thing about BackBay culture?
Coming into BackBay from an in-house communications role, I was well used to being on the front lines of execution in addition to developing strategy, which is why I've enjoyed the transition back into agency life at BackBay. Since it's a fairly flat organization, I'm still able to do all of the things I enjoy about the profession (pitching, reading the news, striking new media relationships, writing, etc.) while also taking a leadership role within the practice and helping to mentor and develop others.
Being a smaller agency, I think something that a lot of people appreciate (including me) is the entrepreneurial spirit we try to instill in our team members. Everyone has an opportunity to make an impact, and is given the freedom to explore new ideas, add new skillsets, and carve out their own niche within our practice that can add value to our clients.
If you could give a piece of advice for new Communications professionals, what would it be?
Take notes on everything. I was never a big note taker in high school or college, and like to think my recall is pretty good. But I learned early on in my career that the difference between the fast risers and the ones who were content in their roles was in how you show initiative. Taking good notes early on shows your colleagues that you care about the task at hand. It can benefit you additionally by informing conversations with clients and colleagues in the future.
The additional practical benefits are that it prevents against initiatives falling through the cracks and helps your team stay on track. I cringe every time a client email comes in that says, "Hi, I wanted to check in to see if you looked into XYZ," and we realize that they had mentioned it in passing on a status call. Capturing those small moments shows that you are listening to your clients, and responding to small tasks that may seem insignificant can go a long way in building a strong, long lasting relationship.
As you advance in your career, I can guarantee you won't always be the smartest person in the room – but you can always make sure you're the most prepared.
What did you want to be when you grew up?
Game broadcaster for the Boston Celtics and/or talk show radio host. I worked at my college's radio station in the sports department, and in addition to hosting my own weekly sports talk show ("The Alley-Oop"), I eventually worked my way up to being the primary play-by-play broadcaster for the men's and women's basketball teams at UMaine. Putting on the headset and calling a game is an experience I've never been able to properly put into words, but it's one of the best things I ever did. Calling a game is more about describing the game in front of you; the best broadcasters can make listeners feel the game as well.
We're blessed in New England to have a stellar group of radio broadcasters that I was able to (try to) emulate, from Sean Grande to Dave Goucher, to Bob Socci. They know how to not only run a broadcast, but also have that ability to draw you into the game.
Since then, I've dabbled in podcasting a bit, which has scratched that itch to some degree. But I'm always up for a debate about something sports related.
What do you like to do when you're not in the office?
I'm a huge Boston Sports fan, so anytime I'm able to attend a game in person, whether it's the Celtics, Red Sox, (I'm a multi-year Red Sox season ticket holder), Bruins, or Patriots. If not in-person, getting together with some friends and watching a game is one of the best simple pleasures in life.
Going to the gym and playing basketball are two constants I turn to for sanity and stress-relief. Beyond that, I'm willing to do anything active, whether it's running, hiking, skiing, summer softball, you name it.
Like many folks my age, the craft beer scene is something I really enjoy, although given the region we're in, it's hard to keep up! I'm not a beer snob by any means, but I'm always game to check out a new spot off the beaten path to see what all of the fuss is about.
My wife, Chelsey, is the center of my life, and she keeps us plenty busy for the both of us! One thing I love about her is how she keeps us motivated to try new things and seek out new experiences. And we're expecting our first child this fall, so I'm sure we're in for more adventures ahead!