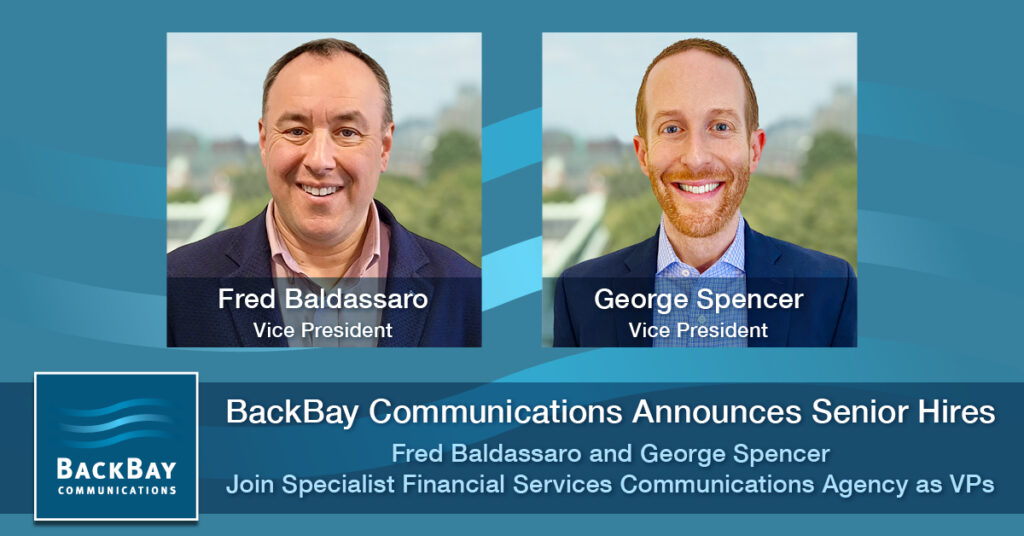 Fred Baldassaro and George Spencer Join Specialist Financial Services Communications Agency as VPs
Boston – BackBay Communications, a leading integrated financial services public relations, thought leadership content development, and digital marketing firm, today announced the hire of Fred Baldassaro and George Spencer as Vice Presidents, joining BackBay's growing team.
"We are very pleased to have such talented professionals bring their knowledge and experience to BackBay to support our clients," said BackBay Founder & CEO Bill Haynes. "Their deep understanding of financial services, strategic mindsets, media relationships, and writing abilities will further enable BackBay to provide exceptional results and counsel, helping our clients build their brands, increase their enterprise value, raise capital, attract talent, and drive new business."
Mr. Baldassaro joined BackBay as a Vice President in the firm's Fintech group, where he helps manage client teams, develops and oversees the implementation of strategic plans, and pitches client news and thought leadership perspectives to the media. Fred previously held several key communications and public engagement roles in the Obama Administration and worked on groundbreaking legislation such as the Affordable Care Act, Dodd-Frank regulatory reform, and the CARD Act. He was also a senior advisor at the Treasury Department, developing plans for the business community to engage with the Administration on policy issues. As Associate Administrator at the Small Business Administration, he helped entrepreneurs find the tools they need to start, grow, and succeed.
Mr. Spencer joined BackBay as a Vice President in the firm's Impact Investing/ESG group, where he helps BackBay's mission-driven clients shape their integrated communications programs to raise awareness of their work and leadership in the fast-growing sustainable finance space. Prior to joining BackBay, George was Senior Manager of Communications for the Global Impact Investing Network (GIIN), where he focused on promoting the organization's vision and building its brand. In that role, he led the production of thought leadership content, working closely with the CEO and other senior leaders to craft opinion pieces and speeches and to launch GIIN's podcast series. Before he began his work in impact investing, George spent more than a decade as a broadcast journalist, including more than six years reporting for NBC News in Philadelphia and New York. Judges honored George's work with six Emmy awards over the course of his journalism career.
BackBay has steadily expanded its team over the past year to meet the growing demand among financial services firms to raise their visibility and promote their brands in an increasingly competitive marketplace. In addition to these recent hires, BackBay added several senior communications professionals in 2021, including:
Beth Herlihy, who joined as a Vice President in BackBay's Private Equity and Venture Capital group. Beth was previously Director of Communications for Mass PRIM and served as head of marketing communications at AEW Capital Management for 12 years.
Maggie McCuen, who joined as a Vice President in BackBay's Wealth and Asset Management group. Maggie was previously Director of Corporate Communications at Natixis Investment Managers.
George Donnelly, who joined BackBay as a Financial Writer, providing editorial services across BackBay's client base. George was previously executive editor of the Boston Business Journal for 14 years and also served as a senior editor at CFO He most recently led Northeastern University's news division as executive editor.
About BackBay Communications
BackBay Communications is an integrated public relations, thought leadership content development, and digital marketing agency focused on the financial services sector including Private Equity and Venture Capital, Wealth and Asset Management, Financial Technology, and Impact Investing/ESG. BackBay works with clients to help them build their brands and drive new business. BackBay has offices in Boston and London and global agency partner relationships. For more information, please visit www.BackBayCommunications.com.
Contact
JJ LaMotte
BackBay Communications
jj.lamotte@backbaycommunications.com