I travel lightly, meaning I can survive with just one pair of shoes if I'm away for the weekend. Even when not traveling, I'll ask my wife to hold my keys while we're out at dinner, both because I hate carrying stuff around in my pockets, and because fanny packs are no longer in style (although I hear they're coming back). But I digress…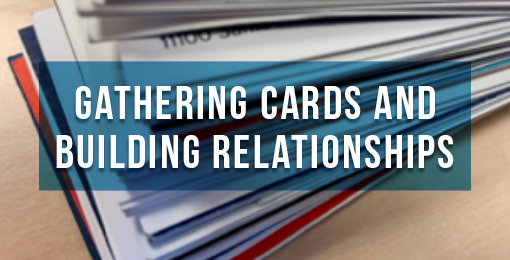 Business cards are merely a tool to facilitate a relationship and by no means represent a relationship on their own.
Business cards are merely a tool to facilitate a relationship and by no means represent a relationship on their own.
I was lucky enough to find myself in Los Angeles recently for the ACG L.A. Business Conference. I packed light, except for the stacks of business cards I tucked into every extra corner I could find. I was armed and ready, but here's where my plan to empty my pockets and deliver those cards to anyone and everyone crossing my path didn't quite go as planned.
Over the course of two days, I gave away every card I had brought. The problem, in hindsight, was that I took home nearly twice as many. I realized, of course, this is was the very reason I was there – it's why everyone was there actually. Shake hands, get the card, move on.
3,000 miles later, however, the stack of cards on my desk was taunting me. The cards, on their own, offered very little value stacked neatly on the corner of my desk. Unlike baseball cards, in which collectors are rewarded for keeping them in pristine condition, a business card is worthless unless you handle it and use it. It was then I realized my mission wasn't solely to meet or greet new contacts (done and done), but rather to follow-up and plant the relationship seed, one business card at a time (getting there).
To be sure, I didn't go to LA expecting anyone I just met to sign on the dotted line and engage us for our (high-level, strategic and worthwhile) services on the spot. It would have been nice, but there was no Hollywood ending in sight. Having spent nearly three decades in public relations, I know that business cards are merely a tool to facilitate a relationship and by no means represent a relationship on their own. This is true with both prospects and clients as well as with reporters, peers and relationships across other circles of influence.
It can be easy to forget this returning from an event or any business travel. In the hustle of catching up with emails and projects, and forging ahead on existing relationships, we'll often forget about the most important part of networking, which is following up. The next step was right there in front of me. It meant reaching out to the hands I had shaken, touching base with my breakfast, lunch and dinner companions, and sending a quick note to all of the really nice people I had met. I took a deep breath or two and got to it.
Following up, beyond being the most overlooked part of networking, is also the most rewarding. This is because it plants the relationship seed from which genuine connections are created. Throughout my career, I've also discovered that these relationships are rewarding whether or not they lead to a new business opportunity. Just having genuine conversations and meeting people who come from all walks of life and different parts of the country makes these events worthwhile whether it drives new business or not. And by following up with care and attention, even if it's just to let people know you valued their time and the stories they shared, you can differentiate yourself without even realizing it. Most new business doesn't come from our direct connections. It comes from word of mouth, and the connections of our connections, who have a problem we can help to solve. And this is why I'm about to work my way through the stack of business cards, even as my inbox awaits.