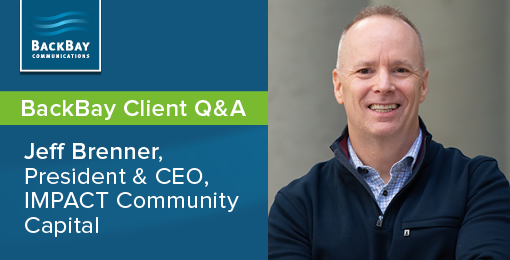 Over the course of our 20-year history as an impact investment manager, IMPACT has remained committed to bringing capital to underinvested communities and supporting sustainable communities through affordable housing.
What is IMPACT Community Capital and its mission?
 IMPACT Community Capital is an investment manager focused solely on impact investing. That is, we seek to generate institutional quality investments that produce market returns and address the challenges of diversity and income inequality in underinvested communities.
Our investors believe that private capital is necessary to address these systemic challenges and that there is a role for institutional investors. In pursuit of our mission, we have originated over $2 billion of investments in affordable housing, healthcare, childcare, and economic opportunities for America's underinvested communities. Through innovative use of traditional capital market tools and strong partnerships we invest at the community level while generating the scale required for institutional capital.
How big of a problem is affordable housing today?
It is severe and affects nearly every community in our country. According to the National Low Income Housing Coalition's 2021 Gap report, there is a current deficit of 7.4 million affordable and available rental homes for extremely low-income households. At the current pace, in which roughly 100,000 affordable housing units are created annually across the country, it will take over 70 years just to satisfy the existing housing shortage. This supply shortage is further compounded by the potential loss of nearly 300,000 units as rent restrictions on these units are set to expire by 2024.
The systemic challenges in underinvested communities were further exacerbated by the COVID pandemic, particularly for people of color – many of whom were already stretched to pay for housing. According to the 2021 NLIHC Out of Reach Report, the median-wage needed to afford a one-bedroom apartment at fair market rents is $20.40/hr. The average median wage of white workers is $23.31/hr. while Black and Latino workers earn $17.81 and $17.24/hr. respectively.
What is IMPACT Community Capital doing to address the affordable housing crisis?
Over the course of our 20-year history as an impact investment manager, IMPACT has remained committed to bringing capital to underinvested communities and supporting sustainable communities through affordable housing. We have originated over $1 billion in permanent mortgages for 42,000 affordable housing properties in 42 states.
In 2021, we closed a $210M Mortgage Opportunities Fund. This Fund was created to assist in the preservation of existing affordable multi-family properties. Investments by the fund will support mission-aligned owners in purchasing affordable multi-family properties and maintaining affordability while they seek new long-term financing to maintain the property as affordable. Without these short-term mortgages or bridge loans, affordable properties could be lost to buyers seeking to convert the apartments to market rate, thus removing a property from the affordable housing supply. We view this Fund as another way for us to ensure communities maintain safe, affordable housing options for individuals and families.
Why is affordable housing a good investment?
Affordable housing is often overlooked by investors due to the complex nature of government support and financing programs. However, it has shown to be a resilient asset class over market cycles. Due to the significant undersupply of affordable housing, there is always demand. As a result, this asset class performs well throughout market cycles – both in periods of high economic growth and economic downturns. Despite the economic situation, demand for affordable housing persists. As a result, properties typically operate at higher occupancy rates and produce stable cash flows for investors. This leads to an overall lower risk profile as reflected by a foreclosure rate that hasn't exceeded 1% over the past 15 years, according to CohnReznick's latest tax credit investments report. Additionally, this same report stated that the cumulative foreclosure rate for Low Income Housing Tax Credit-eligible loans was 0.65% and physical occupancy rates stood at 97.8%. Collectively, these metrics underscore the stability of affordable housing and the unique investment opportunities it presents.
Have you seen increased interest in affordable housing as an important component in the "S" (Social) component of ESG investing? (How does affordable housing transform communities?)
We have seen a notable increase in demand for impact investments, particularly since COVID, as institutional investors seek investments that help support their stakeholders and communities while meeting their investment objectives. These dual objectives have driven an increased interest in affordable housing as these investments provide tangible social impact to low-income families and individuals while offering competitive risk adjusted returns to investors. Across IMPACT's properties, tenants earning 30% of Area Median Income save an average $248/month. These savings can be used towards preventative healthcare, savings, childcare, healthy food, and other essential needs. Our property development partners also provide tenants with services over and above housing, such as job training, computer courses, after-school care, and health services, which not only support tenants personally but also strengthen their ability to be stable renters. Through these properties, IMPACT helps investors bring capital where it is needed, thereby improving the sustainability of communities and renters.
This report is provided for information or educational purposes only and is not an offering, solicitation or recommendation for any securities.  It is also not an offer of, or an agreement to provide, advisory services directly to any recipient.  The information contained herein outlines general terms of a general investment program.
The information provided does not take into account the specific objectives or circumstances of any particular investor, or suggest any specific course of action. Financial professionals should independently evaluate the risks associated with products or services and exercise independent judgment with respect to their clients. Certain products and services may not be available to all entities or persons. Selecting for securities based on environmental, social, and governance (ESG) criteria, an investor may forgo some market opportunities available to portfolios that don't use these criteria.