Three Tips for Game-Changing Content Tailored to Twitter, LinkedIn and Other Social Channels
– Hayley Reissfelder
It should come as no shock that over 80% of businesses are active on one or more social media platforms. With the number of active users on social media growing daily, no company can afford to bypass the benefits social platforms provide (brand awareness, lead generation, website visits – just to name a few.) The financial services industry is no exception. In two of our most recent studies (found here and here), we quantified that more than 9 out of every 10 of the world's top asset managers and global private equity firms are active on at least one social media platform.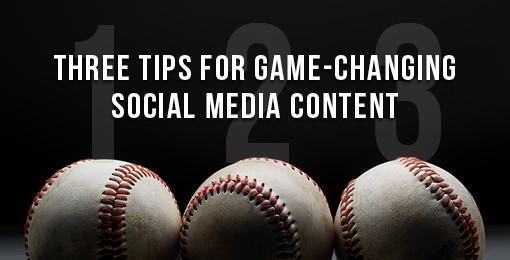 with such a large number of businesses active on social media it's not enough to simply exist – you must build a presence.
However, with such a large number of businesses active on social media it's not enough to simply exist – you must build a presence. A social media presence isn't only seen, it is felt. In many ways, it can instill a personality that turns customers and clients into fans who root for the business in the same way they would pull for their local sports teams. A true presence can inspire action and generate advocacy among consumers, it can reflect the cultural traits of the organization and drive recruiting efforts, and it can position the business within a larger ecosystem to create a catalyst for meaningful interactions that support growth. And from a marketing perspective it can amplify just about all other activities. As entrepreneur John Munsell once described, "If content is king, then conversation is queen."
So, what does it take to build a strong social media presence? Like most things, it takes time, effort, and consistency. But, don't let that stop you from jumping into the ring – you don't need to be one of the biggest global players to make an impact. Whether you're a social media rookie or veteran, follow these three tips to maximize the impact of your social media game plan:
Keep content short and snappy
Consumer attention spans are shrinking – if you want prospects to pay attention you have to be concise. This is especially important in financial services, where industry jargon often drives people to either consciously or subconsciously tune out. Because users on social media tend to consume content on-the-go, long-form social media content is often indigestible and, as a result, ignored. Organizations that can boil down convoluted topics into easy-to-read, compelling copy will find the most success.How short is short enough? We recommend sharing no more than three sentences, or around 150 characters, in a single post, regardless of platform. This isn't always possible, but is a good goal to keep in mind.
Always include visuals
Social media posts that include an image, infographic, or video receive up to 200% more engagement than text-only posts.1 Posts that include a visual have also been found to have better brand recall by consumers as well.Financial services and technology providers should make use of eye-catching infographics and videos to help distill long messages into more engaging formats. In fact, video is one of the most popular mediums used by the top 200 asset managers globally, with 93% producing video content regularly, according to our 2017 study.Not every post, however, lends itself to a video or infographic. In these instances, we've found many clients benefit from a subscription to a stock image website to easily source pictures or artwork that can accompany social media posts. There are a number of options, including several that offer free imagery under creative commons licenses, but we've found Shutterstock to be a low-cost, high-quality alternative that meets the needs of most clients.
Inspire action with links back to original content on your website
To be sure, there can be tremendous value in simply engaging directly with the larger universe of users who are accessible and active on social media. It's important to keep in mind, however, the larger objectives of the social media strategy. Whenever possible, you will want to include a call to action or even a link to your website in your social copy. After all, if you're not trying to get users to engage with your business, why put the time into social media? It goes both ways, too – 73.4% of users follow a brand on social media because they're interested in the product or service 1. Give the fans what they want!For financial service companies, using social media as a distribution channel for original content often pays the most dividends. Going back to our previously mentioned studies, we've found that content marketing has been adopted by the vast majority of the world's top firms in both asset management and private equity (88% and 66%, respectively.) Original content that offers users valuable information is a highly effective way to promote your brand, grow your following, and acquire new prospects. For that reason, if you're producing content, be sure to share your firm's insights, blogs, whitepapers, and other pieces on social media for optimal engagement.
Now that you've got the basics down, time to play ball!
Looking to get start on social media, or want to optimize your current strategy for your business objectives? BackBay Communications offers comprehensive social media expertise and services for clients, with services ranging from team and individual training sessions and seminars, to campaign projects, to complete platform management. For questions and additional details, please contact Bill Haynes, President & CEO, at Bill.Haynes@BackBayCommunications.com
---
1 York, A. (2018, May 11). 61 Social Media Statistics to Bookmark for 2018. Retrieved from https://sproutsocial.com/insights/social-media-statistics/#engagement