Have you ever had one of those moments where you're scrolling through an Instagram feed or poking around on Facebook and an ad pops up for something you had Googled earlier that day or, even more eerily, had been discussing in conversation with a friend? If your answer is no, you're probably in the minority.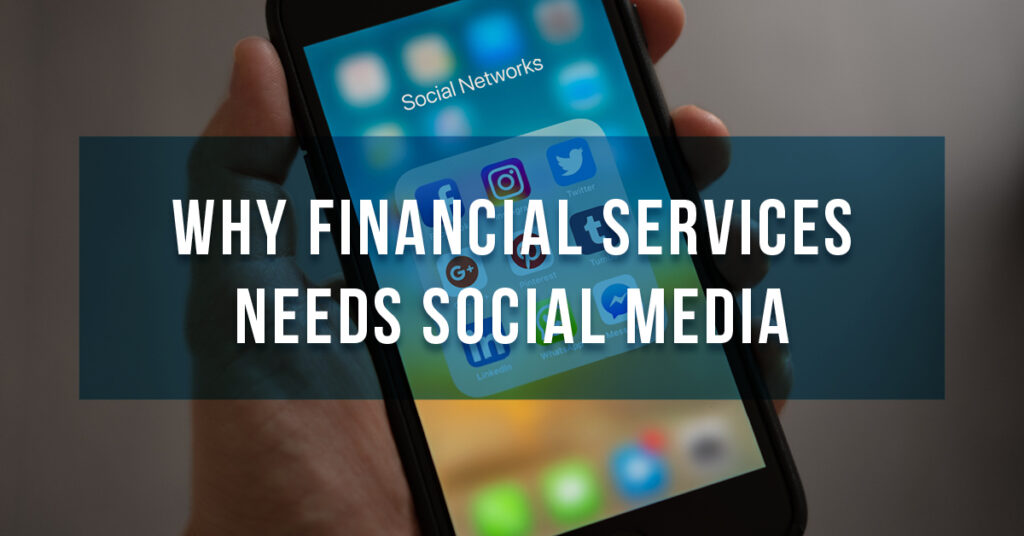 Whether you view social media as an annoying or welcome distraction, or as a helpful tool, it has become ubiquitous and its influence has grown to be irretrievably intertwined not only in our personal lives, but in the business world as well.
Whether you view social media as an annoying or welcome distraction, or as a helpful tool, it has become ubiquitous and its influence has grown to be irretrievably intertwined not only in our personal lives, but in the business world as well.
For some industries, the connection may feel more convenient to ignore than embrace. CMOs in the traditional world of finance and business likely aren't going to trade in their time-honored tactics for Snapchat ads to attract new business, but there are a lot of other very useful social media tools that your clients and competitors are using. If you think you can ignore the world of social media completely, think again. Here's why:
For financial services firms, and by extension the tech and services providers that support them, their industry is one built on a foundation of trust and personal connection. Especially when handling something as important as someone's hard-earned money, end customers want to know that the firms they choose to partner with are worthy of their trust. This means developing your presence on more traditional professional platforms like LinkedIn – but also tapping into tools on more informal platforms like Twitter or Instagram – to offer the transparency, responsiveness, and personal touch that people expect.
A great example is Intuit TurboTax, a software system that helps people file their tax refunds. You may not expect a tax software company to be as "Instagramable" as a retail swimsuit brand, for example, but they have found a way to carve out a niche space in this popular platform that makes them appeal to younger generations and first-time tax-payers. Their page is colorful, animated, and uses engaging hashtags like #RealMoneyTalk to generate discussion. As a new tax-payer, this familiar and friendly presentation of their brand feels entirely more approachable than another equally-reputable company with a limited social presence.
If you're unsure how or where to start, here are some common strategies we have seen generate success for our clients in the financial services industry.
1. Event planning: Social media is an excellent tool for announcing and promoting events. If your firm ever hosts events for current clients, prospective customers, or even friends and family, you might consider taking your marketing efforts to LinkedIn, Twitter, or Facebook. At BackBay, we have helped clients run sponsored campaigns on LinkedIn where they can expand their reach to connect with a relevant audience that may otherwise be beyond their immediate network. With conversion tracking, you can see exactly how many people clicked your post and went to the registration page to determine whether your ads are effective. Additionally, you get the added bonus of network effects. When people RSVP to your event or like/comment, their network contacts take notice and your firm enjoys an organic ripple effect.
2. Thought leadership: This is one of the most common applications of social media we see. When your firm works hard to conduct research, crunch data, and put pen to paper on industry trends you've been observing, you want that to reach the eyes of as many relevant people in your audience as possible. In an ideal world, people would spend their free time poking around your website and reading your content for fun. In reality, it helps to give your content a boost by sharing it on your corporate channels.
Pro tip: encourage members in your company to like/share from their personal profiles, especially senior level executives. Having your CEO share a piece from their LinkedIn page, for example, is not only a great endorsement of your content, but also allows you to tap into their quality network as well.
3. Outside-the-box campaigns: Maybe you don't host events, and perhaps it has been a slow month on the content front. What better way to generate some activity than with a creative-thinking campaign? One of our favorite projects we've worked on was in collaboration with one of our clients, a venture capital company that invests in digital technologies to advance the future of energy. To engage their portfolio companies and generate some interest from investors, we worked with them to start an online pitch competition on Twitter. Their portfolio companies would submit a short video (2 minutes or less), which they would share from their Twitter account and encourage the audience to vote for their favorite pitches. The campaign was an enormous success, even sparked a friendly competition "voting war" between the top two contenders! It was a fun way to engage their portfolio companies and audience alike, and increased our client's profile views 221% from the previous month.
The bottom line: It's no longer enough to expect consumers to go to your website and slog through paragraphs of corporate messaging and jargon-filled "About Us" statements to get to your insights. You need to be active in taking the message to where your audience is, which includes leveraging social media. Fortunately, the accessibility and ease-of-use of social platforms have made it simpler than ever to connect with clients with speed, responsiveness, and a deeper level of humanity than ever before.
Don't be afraid to start small, experiment, and discover what options work best for your firm. If you're ever in need for recommendations on building out an integrated social media strategy, get in touch and we'd be happy to talk with you!