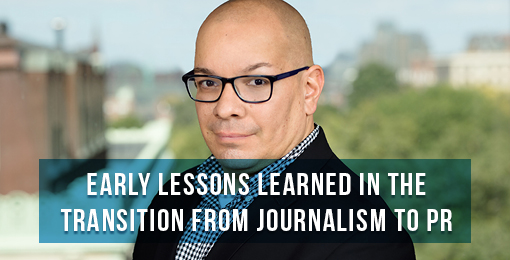 I've learned the work varies a lot day-to-day and week-to-week, and no day is the same. The variety and fast-paced environment during this specific time was similar to being on deadline as a journalist.
"….So, what do y'all do all day besides pitch?"
That was the primary question I had for Tylor Tourville, vice president of the fintech group at BackBay Communications, after my very first conversation with him about taking the leap to the "dark side."
The answer to that question became clearer as time went on through follow-up conversations with Tylor, as well via in-person chats with the BackBay staff when I visited the office for the first time just days before Thanksgiving.
But for as helpful as those conversations were about preparing me for what to expect, nothing quite prepares you for a new experience like being in it. I saw first-hand many of the things those PR folks do on a day-to-day basis in just a couple short weeks of being on the job.
Tylor told me the first week of January was an ideal time for me to start the job because I was coming in fresh as we were working to finalize 2020 planning with our clients. But there was a lot happening during those first two weeks.
I spent a lot of that time listening and absorbing everything, while attempting to learn the processes and protocols in place at BackBay. One of the things I learned immediately is that not every client contract is the same: We don't do the same things for everyone. Each client has an agreement and plan in place that caters to their specific needs.
That was one of the things I didn't quite understand coming into the job. For some clients, we are drafting press releases, pitching them out, handling interviews, etc. For other clients, their internal PR team writes the press release, and it's our responsibility to pitch out, and handle interviews.
A couple of clients we work with heavily on content creation, and don't do much in the way of traditional public relations because that's what the contract calls for in those instances. Again, that was something I only learned once I was in it.
Another aspect of the job I found completely fascinating in the first couple of weeks was what happens behind the scenes before, during, and after a media interview.
We go through great lengths to prepare executives for media interviews. If time permits, we'll send an executive a media brief to prepare for the interview. Spoiler alert: It includes a bio of the reporter. I've read mine. It was weird to see.
During the interview, we're taking notes just like the reporter. I've found sitting in on interviews particularly helpful because I was learning about our clients on the fly. And even if you think you know everything about a client, the calls are incredibly helpful in helping to identify trends for future pitches. My journalist brain is on overdrive during those calls.
Even post interviews, there's a lot to be done. Save your notes in a file; update a media tracker with pertinent information; be available for follow-up questions from the reporter; keep an eye out for pending coverage in the publication.
We have one client in particular that likes to have a postgame review, so to speak, about the interview, where we discuss things like how the executive handled him or herself, and what we may be able to offer the reporter in subsequent follow ups. I think this is where I was able to lean on my instincts and add value right away. It was nice to be able to "put my reporter hat on" and provide an honest assessment of the situation having spent close to 20 years as a media member.
There was one day in particular during those first two weeks that was insane, and it just happened to fall on my birthday.
We had three media interviews, an internal team meeting for one of our clients and our bi-weekly status call with a client. That was in addition to responding to client emails and completing those small yet significant tasks that you deal with on a daily basis.
Those two weeks were an eye-opener, to say the least. I've learned the work varies a lot day-to-day and week-to-week, and no day is the same. The variety and fast-paced environment during this specific time was similar to being on deadline as a journalist. But I will admit it can be tricky to balance multiple tasks.
Now that I've been in this position for four months, I'd like to think I have an handle on it. Of course, that doesn't mean I sit back.
I'm more comfortable in the role, one that's still evolving every day, even in the current state of the world. I'm speaking up more during client meetings and adding commentary where appropriate. I'm beginning to work on what a podcast would look like for our group. As I'm writing this blog post, I do want to write more on this transition because there's much to be told. And I hope that by telling my story, I'm able to showcase the work of BackBay and why we're a leading agency in the world of financial services PR.
And I'll continue to ask myself: Why didn't I do this sooner?
*Note: At BackBay, we have professionals that come from a great diversity of backgrounds. One of my colleagues, Liz Hardy, wrote a piece last year about her non-traditional path to the world of agency PR. It's worth checking out!