2018 represented a momentous year at BackBay Communications. We forged strong relationships with several notable new clients; we maintained and built upon our partnerships with existing clients; and we continued to develop new skillsets that help our entire client base make sense of and capitalize on the evolving media landscape. Not to be overlooked, we also introduced a new organizational model, with an emphasis on specialization across our key verticals, all in the name of enhancing the cohesion of our teams across accounts and augmenting the economies of scale to bring more resources and capabilities to bear.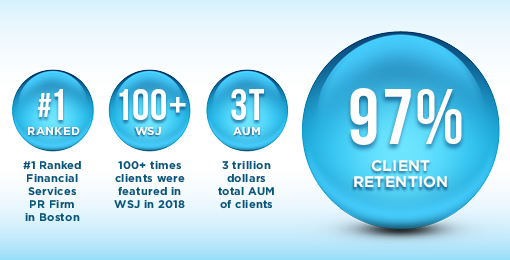 Our mission at BackBay is to generate meaningful results for our clients that build brands and drive growth, while delivering an exceptional client experience.
Our new team structure organized around our primary financial services focus areas – private equity, investment management, and fintech – proved to be effective and scalable. It also helped facilitate team comradery, created greater focus and accountability, and enabled the acquisition of further expertise, allowing us to ensure that we hire the right people for the right roles.
Beyond the benefits to BackBay, we believe it also helped to drive greater client success and satisfaction, marked by a 97% client retention rate, which is virtually unheard of in the communications and public relations industry. Moreover, the specialization we can bring in our areas of focus enabled us to win 18 new clients last year, and increase our employee base by 20% including bringing on long-time financial journalist Paul Lim (Money, U.S. News & World Report, The New York Times, The Los Angeles Times) as Vice President.
BackBay enjoys longstanding relationships with our clients. Our average client engagement is five years, and we have enjoyed decades-long relationships with a number of clients, including BNY Mellon's Eagle Investment Systems and TA Associates. We have worked with Eagle for over a decade now, while our relationship with TA Associates extends 17 years, and predates the formation of BackBay as an independent, global agency.
As the largest Boston-based financial services agency, importantly, we also contributed more in the community in 2018. We sponsored running events honoring our fallen heroes; participated in the Hub on Wheels cycling event benefitting the Boston Children's Hospital; provided Christmas gifts to needy families through Action for Boston Community Development (ABCD); and volunteered multiple times at Community Servings and the Greater Boston Food Bank. We were honored to help these important causes and look forward to finding new ways in which can give back to the community.
What did we learn in 2018 and how will that guide our strategy this year and beyond?
It's about the people. We've all heard this before, but 2018 underscored this truism. We have an exceptional team of smart, focused, gritty, and collaborative individuals. They care about producing quality work. They're committed to their clients and bring an intellectual curiosity to understand an issue and then find creative solutions aligned to each client's goals and culture. They are truly excited about each client's success, our firm's success and the success of their peers. Many were high achievers, with academic distinctions, before joining BackBay, and many bring unique career experience that offers new and different perspectives. They feed on each other's commitment and enthusiasm. And clients can feel it.
Having an integrated approach is essential. Increasingly, companies come to BackBay with business objectives and plans that need a comprehensive communications solution that addresses many different constituencies. Our PE clients, for instance, may be raising a new fund or seeking to source higher quality dealflow; our fintech clients may be introducing new products or seeking to raise their profile among prospective employees, clients, and venture capital firms; and our asset management clients may be expanding into Europe or Asia or developing updated brand positioning to emphasize key differentiators in a competitive and evolving market.We work with our clients to develop a 12-month plan and proactively carry it out, while remaining flexible and opportunistic to capitalize on new developments as they emerge. We do this through leveraging the many tools at our disposal, from traditional PR tactics to help clients forge lasting relationships with the press to more bespoke initiatives, including content, digital marketing, and proprietary events. The steady stream of output, for instance, can take form as bylined articles, social media campaigns, podcasts or videos, infographics, email blasts, conferences, research and thought leadership, and media profiles. This approach isn't only efficient, leveraging economies of scale, but it's also incredibly effective. And we have the awards to prove it. BackBay – and our clients – brought home a number of integrated communications awards in 2018 including honors from PR Daily and the Publicity Club of New England.
Specialization and relationships are critical. With our focus on financial services, and deep experience working across our key verticals – private equity, investment management and fintech – we have a strong understanding of the issues and opportunities facing companies in these areas and have built strong relationships with the journalists who cover them. These two factors, increasingly, are of utmost importance to success. An understanding of the issues, for instance, has become mandatory to offer strategic advice and counsel, while remaining sensitive to the nuance that may exist or even govern a specific initiative.To cite one example, over the past year we've worked with several family offices to position and help brand their businesses. If we couldn't appreciate where these clients fit within the larger private capital ecosystem, or understand their value proposition to prospective business owners, we wouldn't be able to help them own their respective niche. This understanding, beyond brand positioning, bleeds into our work pitching clients to the media, drafting content, and, really, every other tactic.

It's often an overlooked component of communications, given the range of activities being pursued today, but strong relationships with journalists are as important as they have ever been. We know which reporters to target, we understand their coverage areas and beats, we know what they covered last month, and what they're working on over the next week.  They answer our emails and phone calls because we've worked with them frequently in the past, and they trust we have useful information and ideas to share. In 2018, this helped us achieve more than 100 articles in The Wall Street Journal, with regular appearances on Bloomberg TV and CNBC. And, in times of crisis, too, we can guide clients to those reporters who have proven themselves to be fair and objective.

Strong writing is rare and valuable. Competent and compelling writing is becoming a lost art. We have had many discussions with financial services firms (and often won their business) that have told us their PR agency not only doesn't come to them with article ideas, but doesn't have the subject matter expertise or writing abilities to develop an article on the topic. Most traditional PR firms will simply say, "You write it and we'll try to place it."Of course, what this overlooks is that the executives usually don't have the time or the resources to follow these initiatives through. They also may not have the experience to understand what editors are seeking from their contributors. But they do have the insights and knowledge that a seasoned writer can work with, to take the load off of the executives, while producing content that meets the needs of the most discriminating editors. At BackBay, we have hired a number of journalists who generate ideas, research, outline, ghost-write, and edit articles that are then placed on behalf of our clients, all without too much time spent by client executives. These pieces can also serve as cornerstone themes to leverage through integrated communications campaigns.
With our new team structure in place and proven effective, we are ready to scale our operations in 2019. We recently added additional office space in Boston and hope to add additional staff in Boston and London.
If you know of any private equity, investment management or fintech firms that would benefit from BackBay's services, please introduce us. Likewise, we are always looking to hire the best and the brightest. If you know anyone who might be interested, send them our way.
Thank you for a strong partnership
Finally, and most importantly, we would like to thank our clients. Our success is dependent on your success.
Our mission at BackBay is to generate meaningful results for our clients that build brands and drive growth, while delivering an exceptional client experience. We are able to achieve this mission, and experience consistent growth and success, because of our commitment and our sole focus on financial services and the efficiencies and ROI that focus affords our financial services clients. We can accomplish our mission when together we forge a strategic and enduring partnership with our clients – thank you for partnering with BackBay!