As we know, the challenges private equity faced in 2022, including inflation, the accompanying rise in interest rates, the threat of recession, and overall macro uncertainty, have spilled into 2023. While there are signs that price increases are beginning to ease and predictions that a recession, if it materializes, will be shallow and short-lived, overall consensus is that the volatile market conditions will continue for some time to come.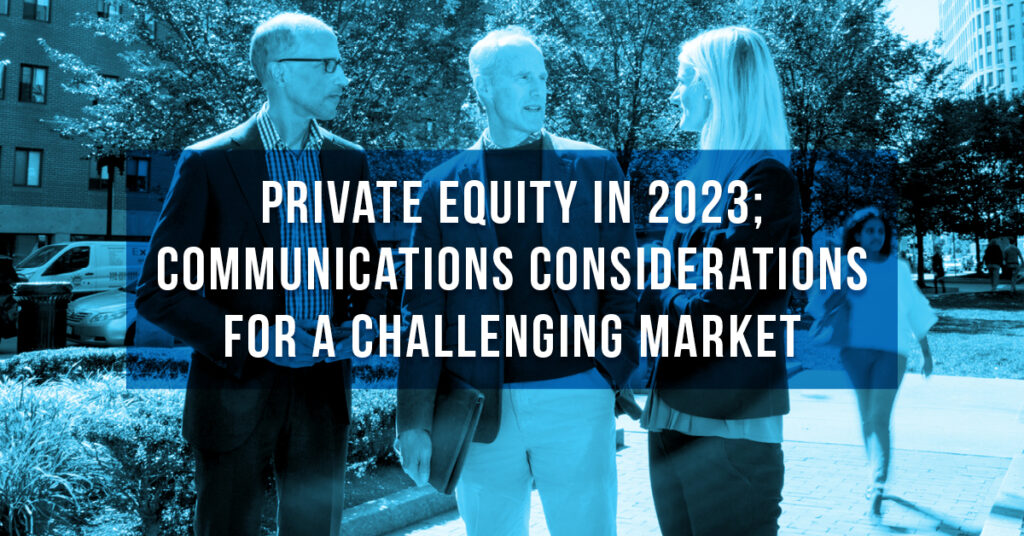 A GP, regardless of where they are on the continuum of fundraising, investments and exits, needs to put their best face forward. This means ensuring their website and marketing materials have a consistent, contemporary look and feel that is truly reflective of the firm's culture…
Whether pursuing additional capital, looking for opportunities to put current funds to work, or seeking to realize investments, GPs will continue to face, and do their best to navigate, a somewhat difficult private equity marketplace. This will include paying close heed to a growing number of regulatory directives, the most recent of which have focused on transparency and investor protections. The new rules owe in part to the continued democratization of PE and the widening and varied pool of investors it is drawing into the asset class.
Such a challenging market highlights the need for general partners to ensure they are using consistent, compelling and compliant messaging in all communications with all audiences, including current and prospective limited partners, regulators, intermediaries and the media.
Funds/Deals
Institutional investors generally agree that a steady allocation to PE over time, under all market conditions, is the soundest strategy for long-term private markets investing. That said, a number of factors are hampering LPs' ability and willingness to commit to 2023 vintage funds. These include a large number of GPs attempting to raise increasingly larger pools of capital, the denominator effect compelling LPs to reduce their PE allocations, and a difficult exit environment that is delaying distributions and thus limiting the availability of capital for investing in new funds. The coming months could be particularly difficult for first-time funds, most notably those with little or no track record, who are at a disadvantage when it comes to securing LP commitments.
Deal volume and deal size were both down in 2022 compared with the prior year, and that decline has continued. A greater number of GPs are settling for taking minority stakes in portfolio companies as the cost of debt has risen, while fewer deals are being consummated due to tightened leverage. Late 2023, when some industry players predict a more amenable fundraising/dealmaking market, seems a long way off.
What to do in such a challenging (and crowded) marketplace? A GP, regardless of where they are on the continuum of fundraising, investments and exits, needs to put their best face forward. This means ensuring their website and marketing materials have a consistent, contemporary look and feel that is truly reflective of the firm's culture. It means – and this is particularly important for emerging managers – that these platforms clearly showcase their team's private equity bona fides. This includes highlighting their investment approach, target sectors, and dealmaking history, which for newly-launched firms, could mean featuring investments the team made prior to the current firm's founding. All of this material should be in accessible language that can stand on its own, without a need for voiceover or explanation.
With our nearly 20-year history of working with a myriad of general partners, BackBay can be a valuable partner in such efforts, providing an informed, outside perspective on how to most effectively position a firm for maximum resonance with its intended audiences.
Regulatory Scrutiny
While not all eyes will be on private equity in 2023, those of the SEC certainly will. The Biden administration and SEC leadership have made clear their belief that PE needs increased oversight, similar to that long-applied to the public markets. As mentioned, the most recent directives, which went into effect in November, focus on marketing and the advertising of fund performance. Additional rules, one of which was proposed in October, could lead to oversight of all electronic communications and impose due diligence and performance monitoring requirements on any investment management-related functions a GP chooses to outsource. Some industry practitioners believe compliance with the various directives will be difficult, time consuming and burdensome, particularly for mid-market firms.
The additional scrutiny highlights the need for general partners to be ever-more exacting in communicating with their constituents. While the BackBay team does not include compliance officers or attorneys, our PR professionals do understand the rules of the road when it comes to crafting compliant PE-focused content, from press releases to bylined articles, social media posts to website text. Whether drafting fresh material or editing content authored by our clients, we do so with a keen eye, guarding against the questionable use of superlatives, the "cherry picking" of well-performing investments, or other language missteps that might run afoul of regulators. While a compliance professional should always provide final review and approval of any LP- and public-facing documents, utilizing an experienced team such as BackBay's can make the drafting, editing and review process more efficient and effective.
The Democratization of PE
With the denominator effect becoming more entrenched, GPs continue to look beyond their traditional LP base for new sources of capital. These sources might include not only additional institutional investors such as insurers and sovereign wealth funds in new geographies, but also family offices and, increasingly, retail investors. Via real estate, private credit and other strategies, a growing number of GPs are seeking to attract the mass affluent and gain a foothold in what some have estimated to be a multi-trillion-dollar market.
Whether a GP is seeking to launch retail efforts or grow existing ones, messaging is all-important. Like their institutional counterparts, when vetting a general partner for possible investment, accredited investors will examine a number of areas, including the firm's investment approach, team and track record. (Potential new hires, a critical audience for firms looking to build in-house, retail teams, will do the same.) Across mediums and platforms, from retail-focused websites to retail product marketing materials, the use of audience-appropriate messaging is key. It is imperative to employ industry-jargon-free language that clearly explains what the firm does and the value proposition it offers to the retail investor. A thoughtful approach to this effort will provide a solid foundation on which to market to individual investors and to make meaningful inroads into a lucrative, and still largely untapped, market.