It was a rather chilly Berlin that played host to SuperReturn International, the world's largest private equity gathering. Taking place over five days at the end of February, it was the biggest SuperReturn yet, with over 2,500 delegates from 40-plus countries and 400 speakers including the 44th US Vice-President Dan Quayle, former Greek Finance Minister Yanis Varoufakis and The Carlyle Group's David Rubenstein.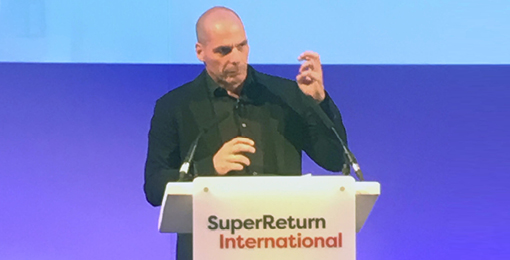 The future for private equity firms is largely in their own hands...reputation management is a crucial element of that
The overall mood was one of optimism although there was a lot of discussion about the industry. With record levels of funds raised, it seems like it could be a bumper year for fundraising. There was of course discussion about high valuations particularly with the $1.7 trillion in dry powder firms are sitting on that led to questions over whether the market was over-heating. The word 'correction' was never far from anyone's lips but the assembled private equity professionals were largely in a bullish mood about the prospects for the industry.
Much of the first day was spent discussing the macro-environment, with Dan Quayle in particular providing an interesting insight on the abundant geopolitical risks; the US/China relationship, North Korea, Donald Trump, Brexit, the Eurozone and China's debt levels all featuring prominently. As the old adage goes, 'a week is a long time in politics' and a little over a week on it was interesting to note how quickly the narrative around some of those issues had changed. The potential for conflict on the Korean peninsula looks more remote with a summit planned between Kim Jong-un and Donald Trump, while the announcement of trade tariffs on steel and aluminum by the US may serve to dent US-China relations and raises the prospects of a trade war.
But it seems the private equity industry has learned a lot from the financial crisis and – at least for the leading GPs – is a more resilient beast. The lesson from many of the leading GPs, in the midst of this, was to be focused and concentrate on the fundamentals; to trust their business models, their investment strategies and their teams. As Brian Conway, Chairman and Managing Partner at TA Associates, a BackBay client, said in a media interview at the conference: "it's about maintaining discipline, maintaining ambition and maintaining perspective".
As TPG Capital's Todd Sisitsky said in his presentation, the financial crisis taught the industry discipline. The key is to "know what you're good at, set your strategy, and stick to it." A presentation by Professor Tim Jenkinson of Saïd Business School on his research on performance persistence across private equity funds supported Todd's case. The research, based on an analysis of some 13,000 portfolio company investments by over 800 buyout funds, found that private equity firms successful in their core strategy that then extend into new strategies tend to be less successful in their new style; a reminder that firms should be wary of stretching the brand too far.
However, the private equity industry is no stranger to ambition either; the model has matured and now encompasses new strategies such as private credit – a market that David Rubenstein believes could overtake private equity in terms of assets under management. There was plenty of debate about how private equity can become more mainstream, becoming more accessible to family offices, high net worth individuals and ultimately into retail through fund distributors.
With volatility returning to the public markets and plenty of geopolitical turbulence, maintaining perspective may seem tricky but private equity is the ultimate bottom-up investment. It's about investing in good companies, with good business models and good people. It's also a long game and short-term noise needs to be filtered out.
The key takeaway from SuperReturn International for me was that the future for private equity firms is largely in their own hands and that reputation management is a crucial element of that. It's telling that Apollo Global Management's Leon Black said that keeping the best people, not doing bad deals, staying on the right side of the regulators and avoiding bad PR are his top challenges. That's maturity for you.