If there's one thing our clients do really well, it's innovate. Working in the fintech industry, we have the privilege of working alongside outside-the-box thinkers who are constantly inventing ways to adapt and improve.
So when the pandemic turned the financial services events landscape upside down this past year, their response was no exception.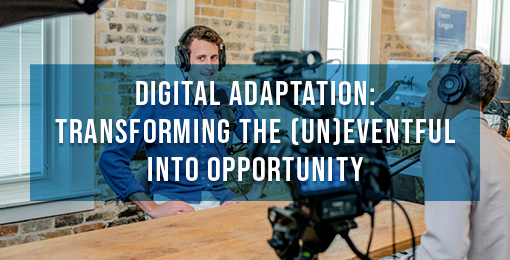 If there's one thing our clients do really well, it's innovate. Working in the fintech industry, we have the privilege of working alongside outside-the-box thinkers who are constantly inventing ways to adapt and improve.
At the beginning of every year – and regularly throughout the year – our team researches event programs that may be of interest to our clients. This includes everything from global money and payments conferences to niche technology trade shows that hit right within our clients' sweet spots in terms of audience. Participation in these events offers a unique opportunity to exchange ideas, learn from peers, refocus strategy and goals, and most importantly, make personal connections with prospective clients and industry partners.
On the event front, this past year obviously looked a little bit different, and there's a good chance the better half of 2021 will as well. That said, we wanted to take a pause to reflect on some of the lessons we learned in 2020 and how financial firms can use them to inform their strategy as they navigate the year ahead.
A look at the year ahead: What now?
Among our client base, we have found that despite the events landscape slowing down, marketing activity has done just the opposite. With a sudden transition to remote working structures and a halt on in-person events, we set out to challenge the "slow-down mindset" and team up with our fintech clients to find new and creative ways to keep their momentum going and create new windows of opportunity to connect with their current and target clients. Here are some creative ways our clients kept their momentum and stayed relevant in the conversation:
Webinars: A budget-friendly alternative to sponsoring to speak on a panel, self-hosted webinars allow our clients to hand-select the most salient challenges they are seeing within the industry while creating a platform for conversation to connect with current and prospective clients. Some clients have hosted webinars on an ad hoc basis, while others scale them into multi-part series to foster ongoing engagement and grow a steady follower base.
Q&A portal: Want to create relevant, timely content for clients but not sure what they're most interested in hearing about? Ask them directly! Creating an open-forum Q&A portal on your website or even using LinkedIn or Twitter polls can be a great way to facilitate conversation, establish yourself as am industry resource, and exchange information and ideas to commonly-shared questions and challenges.
Sponsored posts and campaigns on LinkedIn or Twitter: Have a little extra budget from the quiet conference season? Don't let your marketing budget go to waste. Sponsored campaigns are a great tool to boost your reach among your target client base, usually with pretty accurate results based on your targeting approach.
Participation in virtual industry events: One hidden benefit we found this year is that the quality of the conference content has remained relatively unchanged – if not even enhanced – because desirable speakers' traditionally jam-packed agendas and travel schedules were looking a little lighter, enabling them to participate more easily in digital sessions via Zoom. This also means that coveted speaking spots fill up quickly, so jumping on those call-for-speaker openings 6-9 months in advance of the event date is your best shot to ensure securing a spot.
Virtual proprietary events: If you don't want to pay to speak at a conference, hosting your own can be a great alternative. Proprietary events give you the power to tailor the content to fit your exact interests. Self-hosted events can be low-cost and easy through third-party platforms such as GoToWebinar or vendors that manage the event for you. As an added bonus, you won't be competing with other vendors for paid speaking spots or crowd attention in virtual conference halls.
Video series: Did you know that eye-catching videos boost engagement and overall performance on social? People-driven interviews tend to especially capture strong audience responses, and the sweet spot for length is right around 1-3 minutes to convey your message in short soundbites. Producing videos regularly or as part of a mini-series is a great way to build up a recurring audience base and keep your followers coming back for more.
These are just a few of the demonstrated strategies that we have seen across the financial services industry and worked with clients to implement. We hope our recommendations have provided some helpful insight from our experience navigating the new event landscape, and hopefully inspired some ideas of your own.
Have any questions about how to evaluate an existing event, stay engaged in the off-season, or even host an event of your own? Don't hesitate to reach out at (info@backbaycommunications.com) For the other latest research, news, and insights, check out our website's news page.