Across BackBay's four focus areas – private equity and venture capital, asset management, impact investing, and fintech – team members have been extraordinarily busy recently helping clients adapt and communicate in a difficult environment.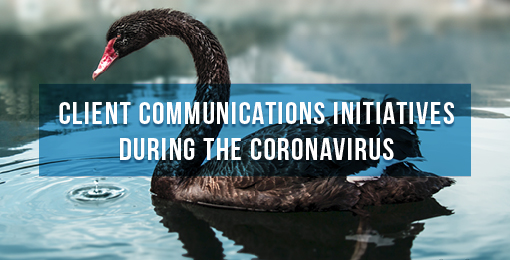 While these black swan events usher in a blanket of uncertainty, there is value in staying engaged, whether it's to make new relationships with reporters, maintain transparent and ongoing communications with key constituencies, or develop new digital muscles
To be sure, the pandemic and the global response is affecting each of our end markets, but the opportunity presented differs across our specialties and from client to client. For instance, for our asset management clients, there has been an insatiable demand to help reporters make sense of the moves in the public markets from one session to the next. Among our private equity clients, the focus has largely revolved around constituent communications, as GPs seek to keep their CEOs, investors and wider networks informed around business continuity efforts. And in fintech, we're helping clients pivot from strategies built around conferences and events and transition to digital venues that can keep clients and prospects engaged and interested.
In all cases, however, we're finding that nearly every opportunity for communications has to be told through the lens of how the COVID-19 pandemic is or will be shaping the investing landscape. This is not unlike what occurred during the global financial crisis in 2008 or even the September 11th terrorist attacks seven years earlier. In our experience, while these black swan events usher in a blanket of uncertainty, there is value in staying engaged, whether it's to make new relationships with reporters, maintain transparent and ongoing communications with key constituencies, or develop new digital muscles that will serve your organization long after shelter-in-place mandates are lifted.
Here is a summary of the highlights for those interested in how their peers are staying active.
Private Equity and Venture Capital
As with all industries, the coronavirus pandemic has had significant impact on the PE and VC communities. With the situation changing almost daily, questions abound about the impact and effects of the virus and the authorities' responses.
Constituent Communications
Our PE and VC clients have been focused on active communications with their key constituencies, including limited partners and portfolio companies, keeping them informed of short-term changes necessitated by the pandemic, while positioning the firms as trusted resources who can help their clients navigate the uncertain road ahead. No one has all the answers of course, but anything that can add some degree of clarity, reassurance and perspective is well received.
Examples of our communications work include helping a general partner craft a letter announcing the cancellation of their traditional in-person annual meeting. (The event will be reformatted as a webinar available for on-demand viewing later this spring.) We also drafted communications from a long-established placement agent to their GP clients, highlighting their experience in past market upheavals and how the firm plans to work with clients moving forward. We are also writing longer-form articles that address coronavirus-related topics.
Media Relations
There continues to be a great deal of activity on the media relations front, with daily requests for interviews on pandemic-related stories from a variety of outlets including Barron's, Buyouts, FundFire, Mergers & Acquisitions, Middle Market Growth, PE Hub, Pensions & Investments, Private Equity International and WSJ Pro Private Equity.
A number of BackBay's GP clients have participated in interviews, helping to position the firms as sources for informed commentary on the possible near- and long-term impacts on the private markets. While not all clients take part in all opportunities, partly due to the ever-changing nature of the crisis, they do appreciate reporters' interest in speaking with them and having our team keep an ear to the ground on how the pandemic is playing out in the private markets. We are also proactively contacting reporters to source additional opportunities. One example includes our work on behalf of a VC client in which we're pitching reporters on the high-impact work of certain portfolio companies to address the crisis.
Examples of articles resulting from our media relations efforts include:
 – By Phil Nunes, SVP, Private Equity
Asset Management
Our asset and wealth management clients have been scrambling in the wake of the coronavirus market selloff to manage their investments in the market downturn while simultaneously reaching out to their shareholders and clients to calm nerves. To help them communicate with their clients and to raise their profile in the press, BackBay has helped these clients share their perspectives in the media and produce a variety of content, ranging from shareholder letters to market commentaries and insights.
Media Relations
We've pitched our experts to the press, getting clients quoted in a number of top tier national financial outlets about the coronavirus market scare. Among the tangible results: Mark Stoeckle of Adams Funds was recently quoted in the Wall Street Journal, Bloomberg, and The Boston Globe. Mike Mullaney of Boston Partners was quoted in The Financial Times. Doug Cohen of Athena Capital was quoted in The Wall Street Journal. Bruce Monrad of Northeast Investors Trust was interviewed on Bloomberg Radio. And Hans Olsen at Fiduciary Trust was quoted in Reuters, NPR, and Bloomberg Radio.
Content
Some of the content we helped develop, design and disseminate includes:
Events
– By Paul Lim, VP, Asset Management / Impact
Fintech
Over the last month, we've been working with our clients in several different ways, helping them communicate to their constituents directly as well as share their viewpoints in the media.
Constituent Communications
For our clients who have had to cancel events, like ISITC, we've helped them put together communications alerting attendees, sponsors, and the general membership about the status of the event, explaining why it was cancelled, and most importantly, highlighting what the organization is planning to do next. In addition, we also helped draft a personal message from the chair of the organization that was disseminated to the membership. The point of this was to underscore the value of collaboration (one of the organization's mission drivers) in times of disruption.
What we strive to provide for our clients goes back to the core competencies of communications. Clear, concise, and transparent outreach has to be at the heart of anything written to clients, prospects, members, employees and other constituents.
Media Relations
On the media relations front, our work with clients can roughly be split between two categories: the first is being proactive in our outreach to reporters to secure opportunities for clients to provide valuable, timely insights, the second is to work with our clients for reactive responses to inbound inquiries, while offering anecdotes around corporate initiatives that speak directly to how they're helping clients or adjusting to the new landscape. In both cases, this has required close collaboration with clients to ensure that they're able to toe the line between providing thoughtful and valuable commentary versus being perceived as taking advantage of a situation that has come at great expense to our daily lives and our communities.
Recent client coverage includes:
Given how abruptly the pandemic has disrupted ongoing initiatives, we are also providing counsel to clients about announcements and campaigns that had been in place and planned for the near term. In some cases, we're taking a "wait and see" approach to see how the environment evolves. In others, we're helping clients quickly adapt to gain a first mover advantage, whether it's offering commentary on evolving regulations, adjust to event cancellations, or alter other deliverables in flight to reflect the new reality. To that point, we are still active in drafting press releases and doing content development so that when the time is right, our pipelines will be well-filled.
– By Tylor Tourville, VP, Fintech